Post Processing and Product Finishing for Die Casting Parts
We offer most post processing and product finishing services for die cast parts from our select partners.
Services
CNC machining - vertical, horizontal, turning, 5-axis
EMI - RFI Shielding
Plating - chrome, copper, zinc, nickel, tin, gold
Anodizing, Electrical Coating, Chromating/Non-chromating
Heat Treatment, Passivation, Tumbling
Graphics

In-house Artwork Process
Silk Screening
Pad Printing

Bead Blasting
Light Mechanical Assembly, including stud and helicoil inserts, O-ring, gasket
Laser Cutting and Engraving
Etching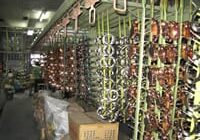 Want to Work With Us?
Our quoting turnaround is typically less than a week, and can even be expedited by request!