Facility - Die Cast Part Painting
Painting over die casting parts are needed for aesthetic or durability purposes. Most die cast parts are painted via liquid or powder coating.
Liquid Painting - Rotating Electrostatic Coating
Coating material is atomized to negatively charged electrostatic particles and then sprayed over the die cast parts, which had been made positive electrodes by electrostatic induction.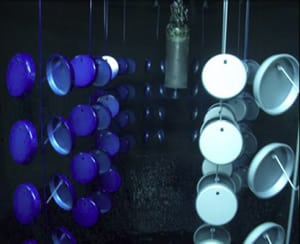 Liquid Painting - Airbrush Coating
Coating is sprayed over the surface of die cast parts by compressed air.
Powder Coating
Applying high-voltage direct currents to powder to make it stick to die cast parts via electrostatic attraction, then melting the coating to cover over the surface of the die cast parts by heat in furnace.
| | | | |
| --- | --- | --- | --- |
| Equipment | Model | Specification | Quantity |
| Chromate chemical conversion treatment for military components | | | 2 |
| Sn, Copper, Zinc, Ni, Chrome, Gold and Silver platings | | | * |
| Liquid painting conveyer line | | | 2 |
| Powder painting conveyer line | | | 3 |
| Spray booth | | Max volume: 6' x 4' x 3' | 6 |
| Micro adjust screen table | | | 3 |
| Shift print machine | | | 5 |
| X-Rite spectrophotometer and color analysis software | | | * |
| Tool gauge thickness microscope | | | * |
| Tassco 90 degree gloss meter | | | * |
| Pencil hardness test kit | | | * |
| Pantone Formula guide | | | * |
| Original RAL color card | | | * |
| Anodize and Hard Anodize systems for aluminum | | | 2 |