State-of-the-art Die Casting Facilities
108,000 sq. ft. die casting floor space in Taiwan
Die casting quality system: ISO 9001:2000
Die casting machine tonnage sizes: 150 ton-2,500 ton
Die Casting Tooling
Detailed die casting tooling equipment list.
Alloys Casted
Magnesium die casting: AZ91D, AM60B
Aluminum die casting:

ASTM: A380, A360, A383, A356
JIS: ADC1, ADC3, ADC6, ADC10, ADC12

Zinc die casting: Zamak #3, Zamak #5, ZA27, ZA8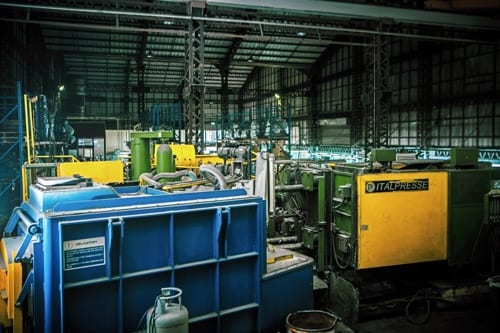 Widest Range of Die Cast Machines in Asia
We manufacture a wide range of die cast part sizes due to our very wide range of machine tonnage sizes, ranging from 150 ton to 2,500 ton (!). We are one of the very few die casters in Asia that can produce both very small (2 g) and very larger parts (up to 50 kg [110 lb.] for aluminum die cast parts).
| | | | |
| --- | --- | --- | --- |
| Equipment | Make | Capacity | Qty. |
| magnesium die casting | Italpresse | 750 ton | 2 |
| magnesium die casting | Italpresse | 500 ton | 1 |
| magnesium die casting | Italpresse | 200 ton | 3 |
| aluminum die casting | Toshiba | 2,500 ton | 1 |
| aluminum die casting | Italpresse | 1,350 ton | 1 |
| aluminum die casting | Toshiba | 800 ton | 4 |
| aluminum die casting | Toshiba | 650 ton | 2 |
| aluminum die casting | Toshiba | 350 ton | 5 |
| aluminum die casting | Toshiba | 250 ton | 5 |
| zinc die casting | Local | 200 ton | 3 |
| zinc die casting | Local | 150 ton | 2 |
| zinc die casting | Local | 75 ton | 1 |